I had the honor of reviewing Anne Marie Miller's (formerly Anne Jackson) first book, Permission to Speak Freely: Essays and Art on Fear, Confession, and Grace back in 2010. It was the very first book that I ever posted a blog review of. She is also the author of Mad Church Disease: Healing from Church Burnout and Beating Burnout: A 30-Day Guide to Hope and Health. I'm reviewing Lean On Me: Finding Intentional, Vulnerable, and Consistent Community.
Here's the purpose of Ann Marie's book:
"…we're not called to be perfect or to have perfect relationships. We're urged to seek the kingdom and live holy lives fully dependent on God and in relationship with others. It is first in the dependence of God, and then in our interdependence with other believers as the Spirit unites us, where we can experience a truly joyful and abundant community here on earth as it is in heaven."
Lean on Me is in two parts: The Makeup of Community and Needing and Being Somebody to Lean on.
The Makeup of Community talks about how God created human beings with a need to belong. She talks about a particularly painful moment in her family's life that changed her feelings about God and the church. She moves forward and asks the reader where they are in a community; talking about the first lost relationship between God and Adam and Eve in the garden.
God desires to have a perfect relationship with us, His people. There are people who believe in God, but have no relationship with Him, those who have some sort of relationship with Him, and those who don't believe that He even exists.
We, also, have relationships with others. She categorizes them as 1) Not Vulnerable and Not Committed; 2) Vulnerable and Not Committed; 3) Committed and Not Vulnerable; and 4) Committed and Vulnerable.
It was in this section of Lean on Me that I realized that I wasn't really a part of any real committed and vulnerable relationships besides my family and my best friend, who lives a plane flight away. I have had very few relationships in which I was very vulnerable. I think, in part, from trusting too easily and being hurt by people I was too vulnerable to as I was growing up.
People are brought together by many things and Anne Marie talks about how people to relate in the everyday and in crisis. She shares a painful time of crisis when she called a group of people, both local and not local, to be her "team". They were people she could trust and she could go to different people for different advice due to their own experiences. This was her catalyst into genuine relationship.
As an introvert, I tend to do very well listening and not so well talking to people about things I need to talk through. Losing the control I have in my relationships actually prevents me from being committed, which, if you haven't gotten the gist of this yet, isn't a good thing.
In the Needing and Being Somebody to Lean on section of Lean on Me, Anne Marie teaches the reader the important of surrender – to God and to others. With God, she advises, we need to "surrender our desire to live our lives for ourselves" and dying to our human nature so we can "live in the identity of who God created us to be". With others, we need to "surrender our need to be right", "to be heard", and we need to "find peace in serving instead of demanding that we be served and complaining" when we aren't.
I highly recommend Lean on Me. This is the second book of Anne Marie's that I have read and reviewed. It's also the second book of her's that has touched me deeply and told me that I needed to step out in faith and grow, as painful as it is to do. Get the book. Heck, you can't go wrong with anything that she writes, so get all her books!
I'll leave you with this one last phrase. My word for 2014 was "Love". This phrase from Lean on Me was just another reminder of my word.
intentionally love, regardless
I shared this post: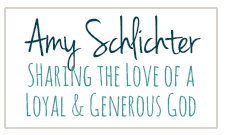 I received this book for free in exchange for my honest opinion. This post contains affiliate links.